December 2014: Tips, eNews and More!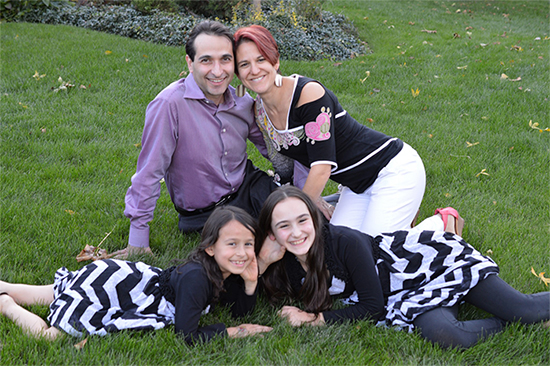 Last month Haas Dental Centre celebrated its 13th anniversary at our current location of Sheppard and Wilson Heights. We would like to thank the many patients that have been with us from the beginning. It is hard to believe how quickly time has passed. As the saying goes "time flies when you are having fun".

Dr Dan's girls, Yael and Limona, chose to dress up as babies on Halloween and proudly wore their onesies. They are currently busy preparing for their two Lion King performances later this month.

We wanted to update the many young patients that were recently in and were very disappointed to see the pond empty. Our koi fish pond had a leak and as a result had to be emptied for repairs for three weeks. During that time the koi were kept in Dr Dan's garage and did well except for the misfortune of one koi fish that jumped out. We are glad the koi fish are now back and are awaiting all the kids to come by and feed them.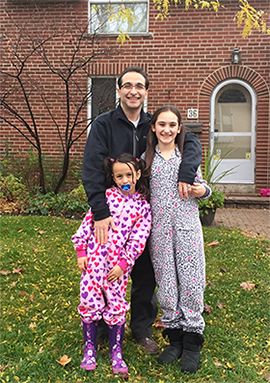 Liat and her husband also just purchased their first home in Vaughan. They're very excited to be first time homeowners. They are enjoying doing some minor renovations and decorating their new home together. When she is not busy at home Liat still finds time to brush up on her tap dancing skills.
Diana recently baptized her cousin's little girl, Brooklyn Victoria, it was a pleasure for her to be part of such a special day. She also celebrated her twin nephew's birthday. They both turned six years old.
Last month Antonella and her husband Angelo celebrated their 15 year wedding anniversary. They had a great time celebrating with their children. They also had an evening out with just the two of them enjoying dinner and dancing. Halloween was a treat! Isabella went as Strawberry Shortcake, Adriano as a zombie, Andrew as a Transformer and Gabriella as Elmo. They all had so much fun trick or treating even the weather didn't keep them away.
Celia had an eventful October. Her daughter, Monica, turned the big 10. They celebrated this significant milestone with close friends and family. It was a wonderful celebration but it's difficult to believe that Monica is growing so quickly. Halloween was great! Monica dressed up as a little devil and their dog Xena even got in on the action.
Nicole and her husband Eddie recently purchased their first home. They are currently doing some minor renovations before their move in December and are looking forward to spending the holidays in their new place. Nicole and the girls went on their annual visit to Downey's Farm in Caledon to pick out their pumpkins for Halloween. Even though it was a chilly day the girls had a blast!


Have a safe and healthy month,

The Team at Haas Dental Centre


---
What are Dental Inlays & Onlays?

In the past, the only way to fill a dental cavity was through silver amalgam (mercury) fillings. Today, many general dentists and cosmetic dentists like Dr. Haas and Dr. Schacht in Toronto shy away from using mercury fillings due to their potential health risks and unsightly nature. The preferred methods for cavity fillings are composite fillings or dental inlays and onlays.

Dental Inlays and Onlays Explained

A dental inlay or dental onlay can repair a mildly or moderately decayed or structurally damaged (cracked or fractured) tooth. Porcelain is a popular material used in this dental procedure; however, composite resin or other metals can be used. Our North York dental team prefers the use of lab fabricated reinforced resin due to its natural appearance and durability. In most cases, dental inlay and dental onlay restorations are undetectable, allowing clients to maintain a healthy looking smile regardless of dental cavities.


Click here to learn the difference between an inlay and onlay.
---
Surreal Sweet Potato Leek Soup

It's winter and it's time to get rooted!

Are you eating root vegetables? Do you know how good they are for you? If you aren't including yams, squash, beets, carrots, radish, and rutabaga – it's time to start.

The root veggie we are most excited about is the white sweet potato, also known as the Japanese sweet potato. So here is a recipe that is quick and easy to whip together. Don't worry, this recipe also works great with regular sweet potatoes!


Click here for the full recipe!