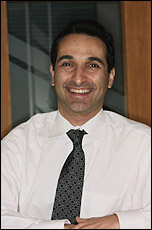 Dr. Dan Haas a.k.a. Mr. Post-It

is the owner of Haas Dental.
Dr. Dan loves people – and getting to know his clients is the fun part of his job. After graduating from University of Detroit Mercy in 1995 he passed the North East Regional Boards with a perfect score of 100% in each of his clinical disciplines.
After practicing in Michigan for the first few years, Dr. Dan returned to Toronto in 1999 and began to build his practice and his team. Dan makes learning front and center - traveling back and forth to the Las Vegas Institute of Advanced Dental Studies, among other places.
Dr. Dan spends his spare time with his wife Daneal and their beautiful daughters.
Click here
to learn more about Dr. Dan Haas.